Rajd Nordic walking – czyli pieszy marsz z kijami, to cykliczna impreza organizowana przez MCK filię Miejski Ośrodek Kultury.
Uczestnicy pod okiem doświadczonych instruktorów wyruszają w najróżniejsze i najpiękniejsze zakątki ziemi tomaszowskiej. Podczas pieszej wycieczki jest zawsze pora na integrację i spojrzenie na swoją okolicę z innej perspektywy.
Piesze marsze to przede wszystkim zdrowie, bo uczestnicy wykonują nieforsujący trening całego ciała na świeżym powietrzu.
Instruktor:
Pierwszy w roku 2017 rajd nordic walking, odbędzie się 25 marca (sobota) o godzinie 09.30 (zbiórka przy ul. Bema – sklep ogrodniczy).
[ngg_images source="galleries" container_ids="352″ display_type="photocrati-nextgen_basic_slideshow" gallery_width="320″ gallery_height="240″ cycle_effect="fade" cycle_interval="10″ show_thumbnail_link="0″ thumbnail_link_text="[Show picture list]" order_by="sortorder" order_direction="ASC" returns="included" maximum_entity_count="500″]
Rajd z dnia 18 luty 2017 r. (sobota) zostaje przeniesiony na inny termin!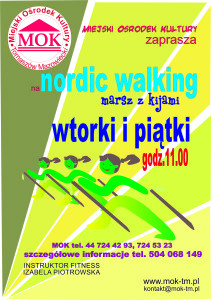 Plakat ,,Nordic walking"
Zapraszamy do galerii z poprzednich Rajdów nordic walking:
[album id=7 template=extend][album id=6 template=extend] [album id=9 template=extend] [album id=8 template=extend] [album id=15 template=extend] [album id=14 template=extend][album id=19 template=extend]][album id=21 template=extend][album id=22 template=extend][album id=24 template=extend] [album id=25 template=extend] [album id=26 template=extend][album id=27 template=extend][album id=28 template=extend]